Product Description
Gen-Eye POD Now with WiFi
SL-GPW-E Gen-Eye POD with 200 ft. Gel-Rod, Self-Leveling Color Camera, Open Reel, and 2″, 3″ & 6″ Trap Skids.
GEN-EYE POD®
Integral camera system – camera, reel, monitor in an all-in-one package.

7" LCD color monitor mounted on a gooseneck for easier viewing.

Self-leveling color camera automatically keeps the picture right side up.

Full size reel carries 200 ft. Gel-Rod® to inspect 3" to 10" lines.

Rugged frame can be operated vertically or horizontally.

Includes LED dimmer control, and AC/DC power cords.

Video connection to record on external device.

Wi-Fi sends video to smartphone or tablet to record and send to customers.

512 Hz Transmitter for easy camera location.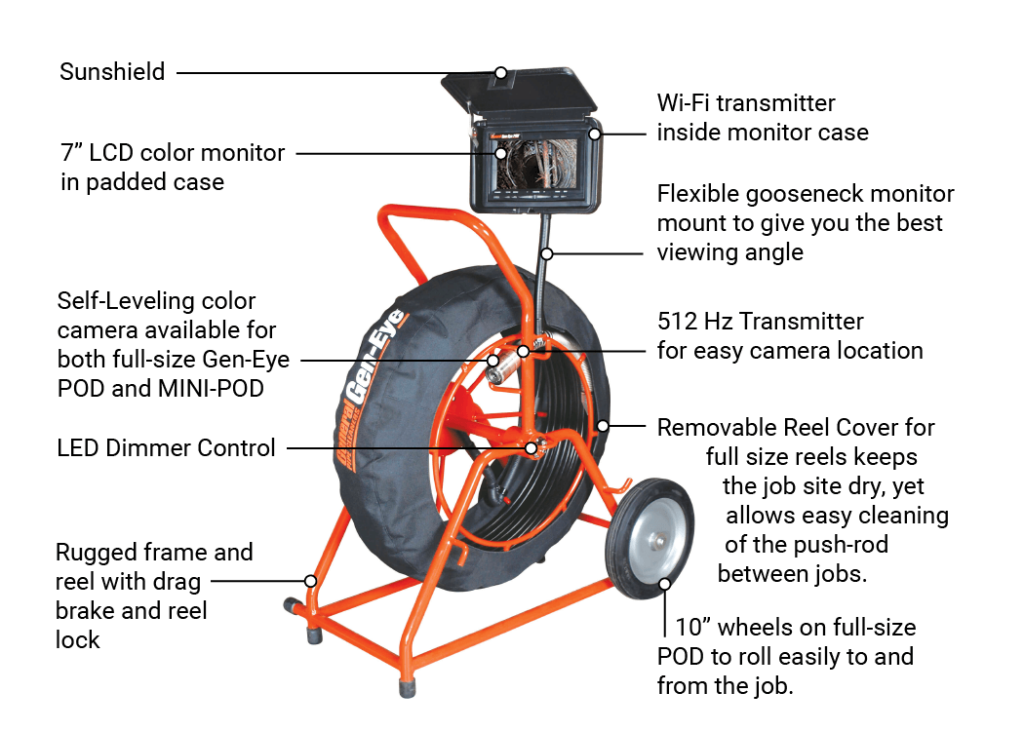 Advanced Skid Designs
Skids keep the camera centered in the pipe for a better view, while reducing drag on longer runs. Standard systems include both 2″, 3″ and 6″ trap skids that protect the camera from abrasion as it slides through cast iron traps. Optional 3-in-1 skid set for 4″, 6″ and 8″ lines, and Universal Roller Skid for 6″ to 12″ lines are also available.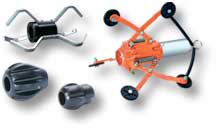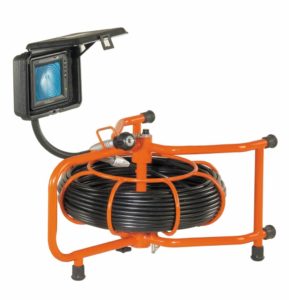 The Gen-Eye POD's tough steel frame can be operated vertically or horizontally, so you can handle nearly any application.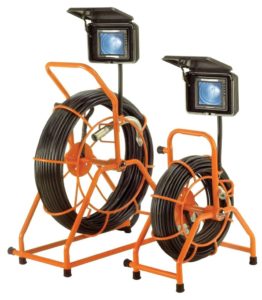 The full size Gen-Eye POD features a color self-leveling camera and 200 ft. of Gel-Rod® for trouble-shooting 3" to 10" drain lines. The compact MINI-POD, (SL-GPW-A $6,068), carries 125 ft. or 175 ft. of push-rod and color self-leveling mini-camera for inspecting 2" to 4" drain lines.
Wi-Fi Transmitter


Wi-Fi lets you use your own tablet or smartphone to record the inspection and send it to your customers on the spot or back at the shop.



Self-Leveling Color Camera
Automatically keeps the picture right side up as the camera glides through the line. Just 1.625" in diameter with 16 Bright-White LED's to illuminate up to 10" lines.
Mini Self-Leveling Color Camera


Mini Self-Leveling camera is just 1.125" in diameter with 4 Super Bright LEDs to light up 2" to 4" lines with 15% more candle power than other models.
AC/DC Power Cords


Allows you to operate in the field with truck power alone.
Flexibility, Strength, Durability


A tough, Gel-Rod push rod protects against moisture damage if the rod is cut or abraded. Its Kevlar® braid, fiberglass core, and durable sheath provide for maximum pushing and pulling power.

Big Capacity Reels


The standard reel holds 200 ft. of push rod on a sturdy frame and takes up little space in your truck. Eight-inch wheels ensure easy transport to and from the job. The mini reel carries 125 ft. or 175 ft. of push rod in a compact frame for easy handling without taking up too much room in your truck.

Removable Reel Cover


Protects job sites from dripping push-rods. Heavy-duty, 600 denier poly canvas cover fits snugly around the full size reel. Securely affixed with Velcro tabs – and easily removed to hose off push-rod between jobs

Other features include


Integral 512 Hz transmitter, dimmer control, 2, 3, & 6″ trap skids, and AC and DC power cords in accessory pouch.
Product Videos
Custom Field
Find a lower price? We will meet or beat it
Click here &nbsp or call (800) 895-4916 *See Store Policies*
Product Reviews